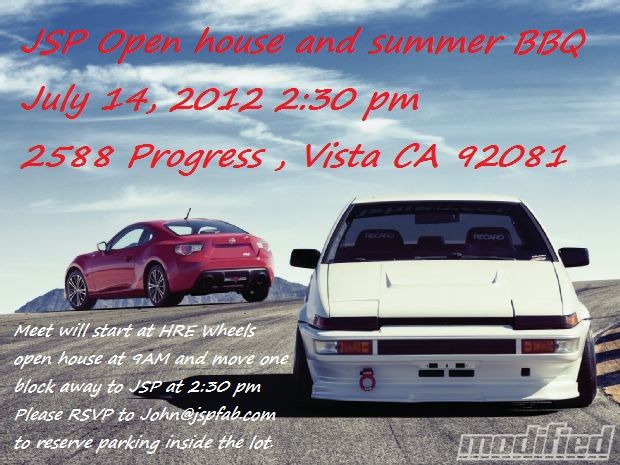 JSP is having its first open house and BBQ meet! Come check out the shop and hang out with other club4ag members as well as your favorite Formula Drift drivers! The meet will start at HRE wheels annual open house where some of socals craziest exotics and luxury sports cars will fill the lot. Free tours of the facility and great entertainment. Club4ag will have their own parking area for those who rsvp before july 7th. When the HRE meet is over the Club4ag guys will move one block down the road to JSP for some great BBQ, hanging out and relaxing. Check out some of the cool projects and latest products from JSP and meet with professional Formula drift drivers like Taka Aono, Matt Powers, and Justin Pawlak.
Meet will start at HRE Wheels at 9 am
HRE Performance Wheels
2611 Commerce Way, Suite D
Vista, California 92081
And move to JSP at 2 pm
JSP
2588 Progress Street
Vista CA 92081
Parking is limited at JSP so those who dont RSVP might be asked to park on the street. Please RSVP to john@jspfab.com before july 7th. Please include full name and the car you are bringing.
Hope to see you guys there!

Modified by mr john at 7:40 PM 7/2/2012


---

JSP http://www.jspfab.com

custom fabrication, custom tig welding applications
turbo manifolds, headers, exhaust systems
stand alone ecu wiring, custom wiring harnesses, and wire harness tucks

2588 progress st suite 3
vista ca, 92081 619-788-3415
by appointment only