EDIT
2008's Coil On Plug DLI Solution Thread Update---> http://forums.club4ag.com/zero...age=3
EDIT
Ok, before I start on how my 20v version was setup, let me show you a an example of a pic I saw from japan that piqued my interest in Ultra's MDI Direct Ignition System for jdm 16v bluetop 4ag
Notice anything strange? The distributor has no leads coming off of it! Ignition is coming from a pair of coil packs...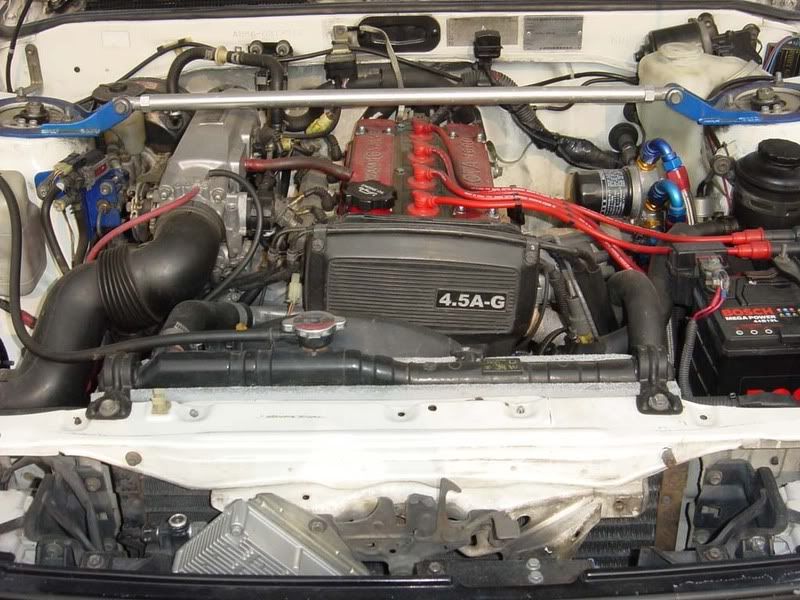 that look sorta like these

this is the kit (an older version) that comes with a new igniter, an FSD (firing sequence determination) unit, wires, a 3 wire hall effect sensor, hall effect shutter (2x), 2 coil packs, nuts screws and a shutter alignment tool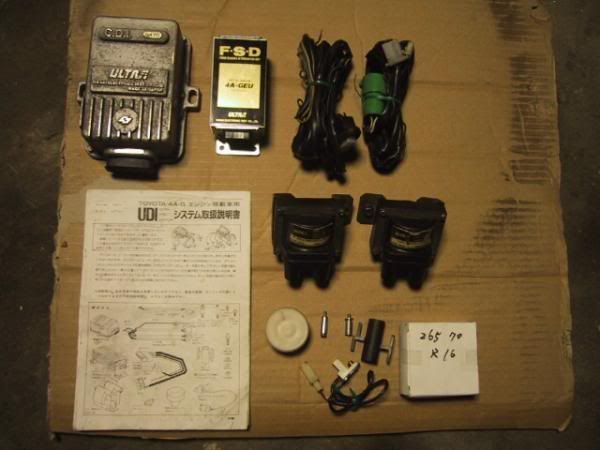 heres the newer kit that looks a little different, but does the same exact thing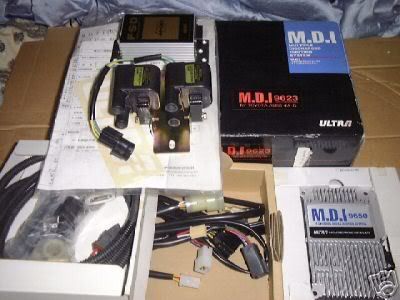 heres the diagram from Ultra. A Hall effect shutter replaces the rotor inside the bluetop distributor and the sensor is premade to fit inside. The idea is to retain the rpm and sync signals (Ne, G) that exist within the distributor so proper ECU functionality still exists. But this kit is adding a new digital signal (from hall effect shutter) that a separate module (FSD) interprets which then sends it to the new ignitor which fires the coil packs based on the ECU's own ignition signal (IGt) and spits back the appropriate confirmation (IGf). Whew. The wiring all plugs directly into the JDM bluetop harness. The new ignitor is powered directly from the battery and there is an extra lead that allows for aftermarket tach to be used if desired...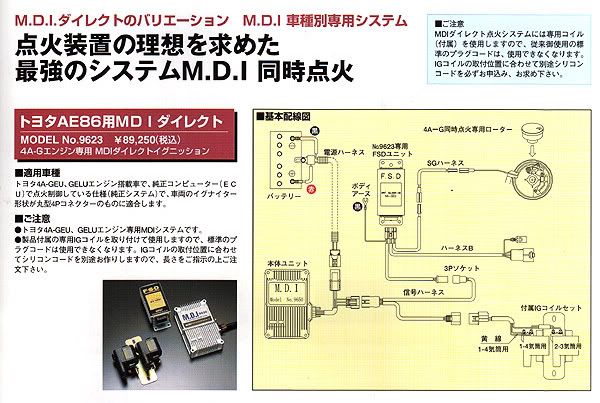 heres where the problem lies. The shutter (white) doesn't fit or work inside the 20v distributor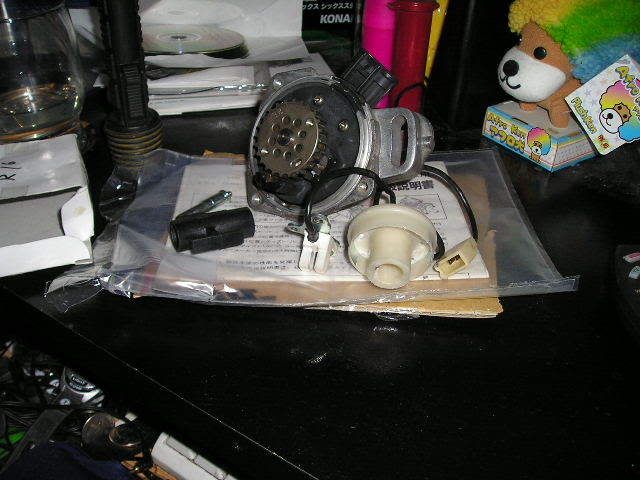 So the easiest way to mount it properly is to put it on the front 20v exhaust cam gear. RS Hamada has a kit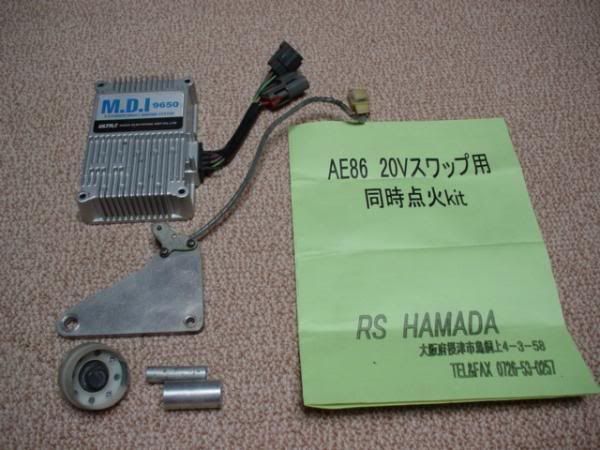 they took the direct route and modified the shutter slightly so that it bolts onto the front exhaust cam gear instead of a bluetop distributor, and a bracket holds the hall effect sensor in place using the holes the FWD engine mounts uses. it is crucial that the space between the sensor and shutter is kept consistent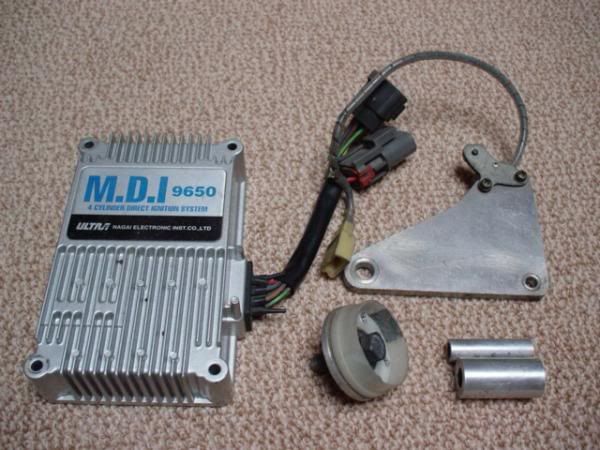 Another company called MP (motor project) Azlead offers another kit. For the shutter, they machined a new 2x shutter out of what I think is aluminum and made a fancy bracket for the hall effect sensor too. The kit comes with a plate to cover the dizzy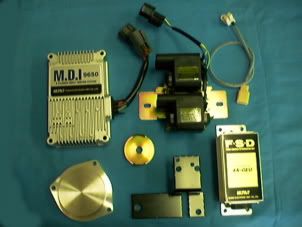 This is what I bought used off of yahoo japan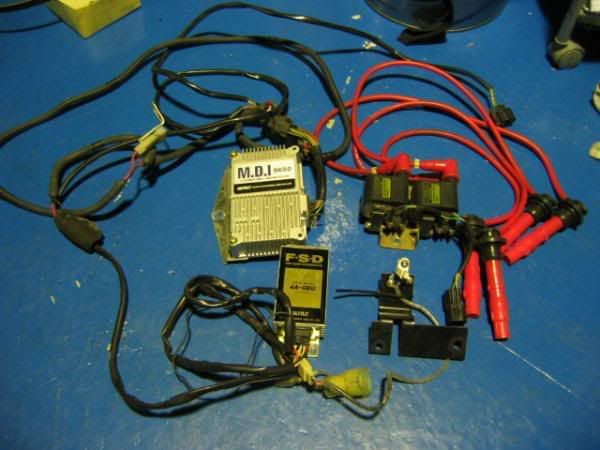 Which I installed: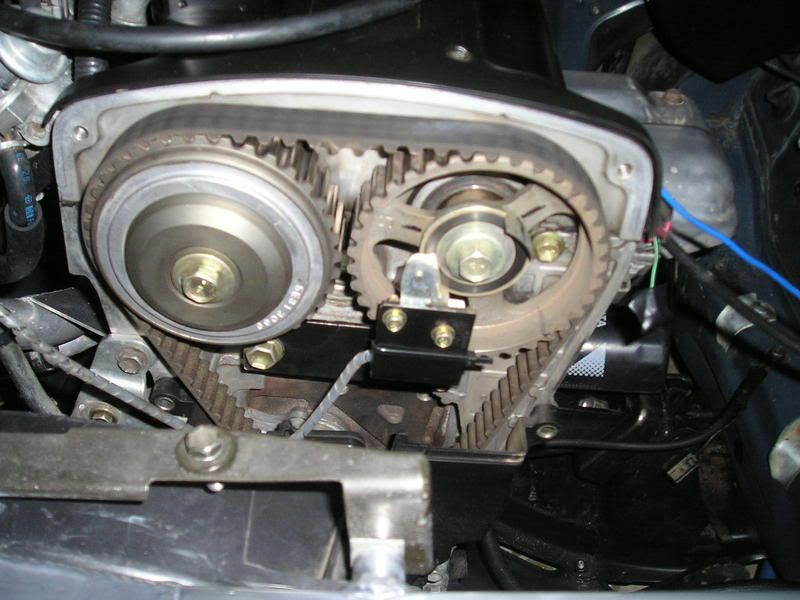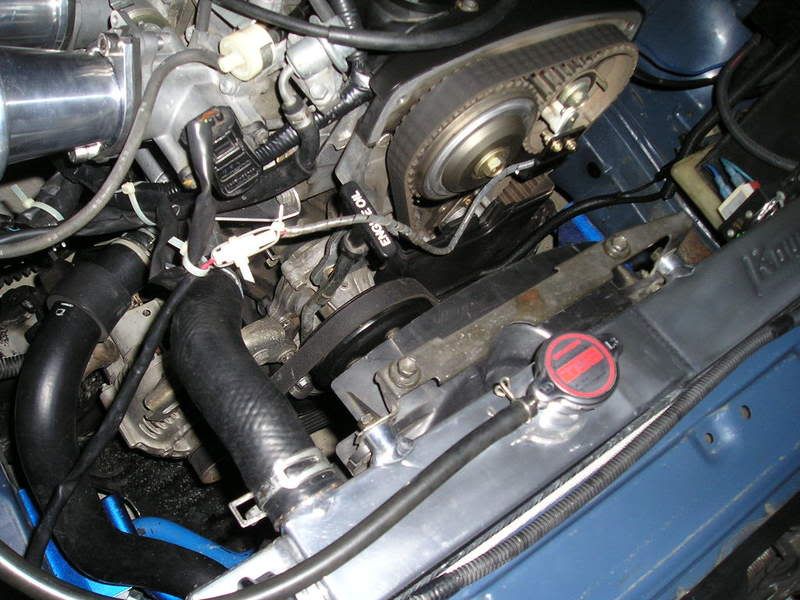 Now, the kit was made for 16v and bolts/plugs right into the engine/harness. I didn't know what wire did which and I did not have a full jdm bluetop wiring diagram with connectors or pinouts. I emailed ppl from Australia and Japan for help and assistance.
Then whilst looking on japanese ae86 websites i found this wiring diagram: http://img.photobucket.com/alb...1.jpg
...and had a friend translate the wire colors and whatever else was pertinent: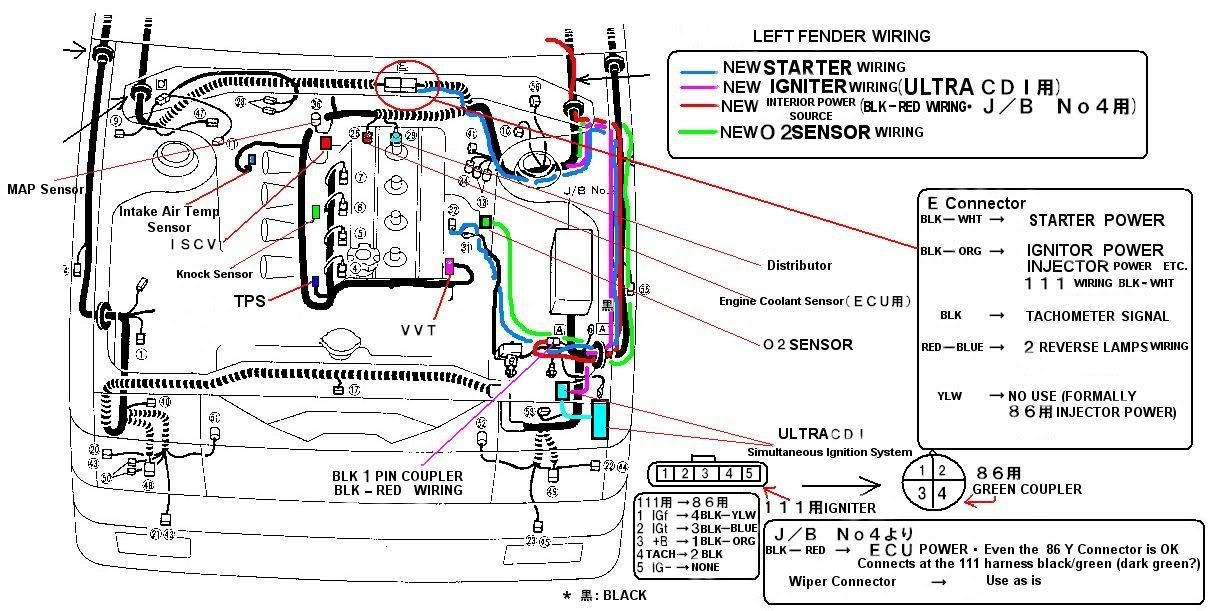 This translated diagram gave me the original jdm ae86 harness plug and how to splice it into a 20v's harness! To match up with the DLI kit's harness plug i found that a Zenki wiper motor connector fits PERFECTLY! (wiper motor connector left, MDI harnss right)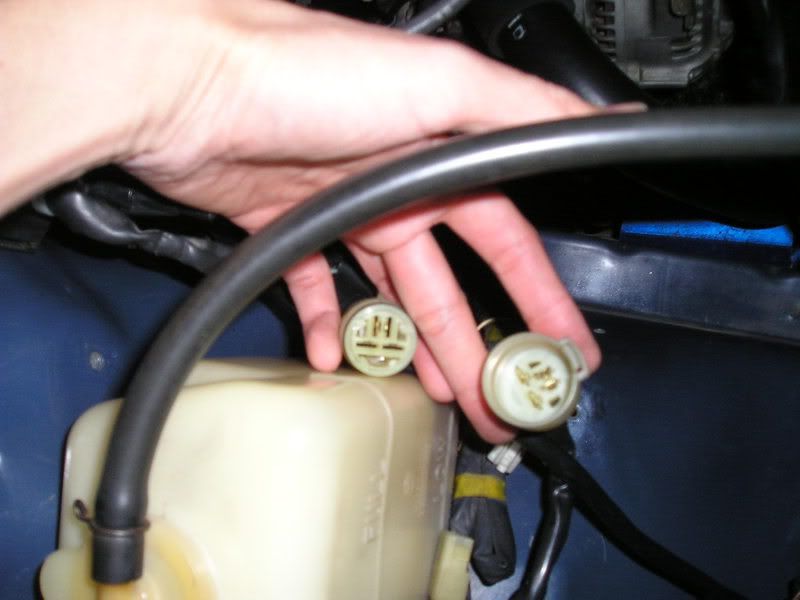 Basically you cut the 5 pin ignitor connector off the AE111 or AE101 's engine harness and wire in the wiper motor's female connector appropriately. Only one wire is left over and you do not need it, it was supposed to go to the OEM coil negative, but that will be disabled with this kit.
Heres some helpful info if your going to go this route on your 20V:
1) It is important that your distributor has or will not be moved. 10 degrees BTDC can only be checked (i think) when the engine was running
2) alignment of the hall effect shutter in front was a hit or miss thing for me and vis0n (barry). He used his ears to find the sweet spot based on where my distributor was aligned. It will need to be toyed with when your going to fire it up for the first time
3) jdm 16v bluetop MDI kits are available new in Japan and easily attained from Ultra, but the adaptor kit for the 20v is rare and the shops don't like to do business internationally.
I guess I can take some measurements of the halleffect shutter and have someone fab up a new one along with a sensor bracket, but my car is my daily driver and I can't afford to have downtime at the moment.

Let me know if you have any questions
EDIT:
Terms:
MDI Multiple Discharge Ignition
DLI Distributor-Less Ignition
CDI Capacitive Discharge Ignition
Heres another japanese setup using the system I have


Modified by VitriumGTS at 11:06 AM 1/12/2008

Modified by VitriumGTS at 11:13 AM 1/12/2008

Modified by VitriumGTS at 9:10 PM 4/25/2010

Modified by VitriumGTS at 12:35 AM 3/21/2011


---

My RHDJapan.com receipt said: "Your order # is: 100001986". The AE86 gods really are looking out for me.