> so that 5pin plug is the cor relay so i guess i just splice that into the ae86 cor relay
pretty much, yes. I wired my fuel pump directly to the COR output as it was on the AW11 already. I didn't use the JDM fuel pump relay or any of its associated wires (blue & blue/black). The reason for this is partly as follows:-
If you look on the JDM wiring diagram below, there are two circuits on the Fuel pump relay. One is running at full power and the other goes through a resistor (somewhere in the loom I guess) to reduce the fuel pump power. This relay is then controlled from the FPR pin on the ECU and allows the ECU to run high pressure on demand. I have stuck with the stock AW11 way, flat out. The diagram below also details the pin/plug positions for each wire.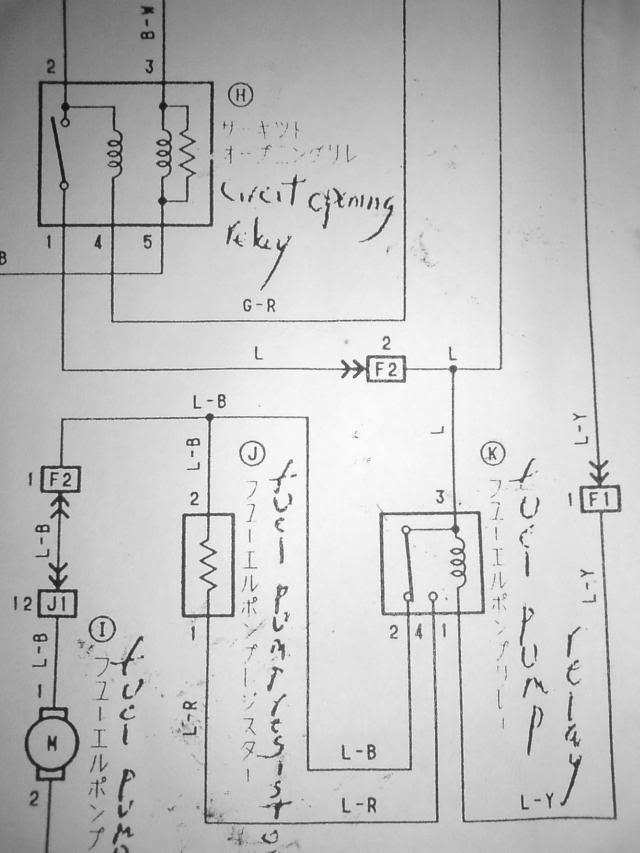 Many, many thanks to Phil Bradshaw for supplying me with the AE92 diagrams years ago when I first bought my front cut.
The Green/Red stripe wire goes to the ECU Y Connector, pin #14 - this wire is the FC signal that triggers the COR. (this pin IS used on my swap) Have you connected this wire?
Blue goes to F2 Connector, pin #2 - this is the JDM power supply wire for the fuel pump that goes into the FP relay. (not used on my swap)
Blue/Black stripe goes to F2 connector, pin #1 - this wire goes straight to the fuel pump. (not used on my swap)
Blue/Yellow stripe goes to F1 connector, pin #1 - this wire is the FPR signal from the ECU to switch low/high power mode. (not used on my swap)
>richard how did you wire your alternator?
Funnily enough my alternator was the easiest of the lot! Ironically, when I scrapped my AE86 (still brings a tear to my eye
) I kept the alternator, and have ended up using that on the exhaust side. The connectors just plugged straight in, leading me to believe that they were the same on the UK AE86 as on the JDM AE92... (this may need confirming)
>do you know what those black and white wire on my 3rd pic goes to?
I'll need to check on my engine to see what they do....
Also, make sure your igniter is grounded to the chassis. Had me scratching my head for a day as mine cranked with fuel but no spark...
Hope this helps,
Richard.
BTW, Ozone's site was a great source of information for my swap , Thanks Ozone
Modified by Roti at 2:50 PM 4/21/2008

Modified by Roti at 2:56 PM 4/21/2008

Modified by Roti at 3:00 PM 4/21/2008